Older Members
by Hank Graham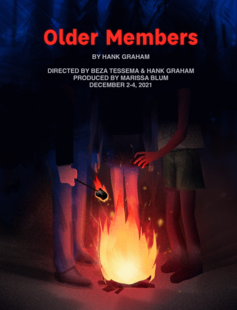 Six friends return to Camp Two Arch as counselors in the summer after their first year of college. It's not as fun as they remember. And the camp director is acting a lot weirder than they remember. Being behind the scenes gives them a much different perspective on the camp than they had when they were campers. Older Members follows six semi-best friends as they try to navigate the middle ground between growing up and being grown up. 
If you have any questions, don't hesitate to reach out to our directors Beza (beza.tessema@yale.edu) and Hank (hank.graham@yale.edu). If you are interested in working in production role (even if you have no experience but want to learn!) reach out to our producer, Marissa (marissa.blum@yale.edu)
For all inquiries, please contact:
Media and Downloads

om_audition_packet.docx
(.docx - 21.18KB)
Performance Dates & Times
December 2, 2021 - 7:00pm
December 3, 2021 - 7:00pm
December 4, 2021 - 7:00pm
Location
Venue Accessibility:
Contact the email listed above or the producer for inquiries regarding accessibility.
Tickets not yet available, check back soon!