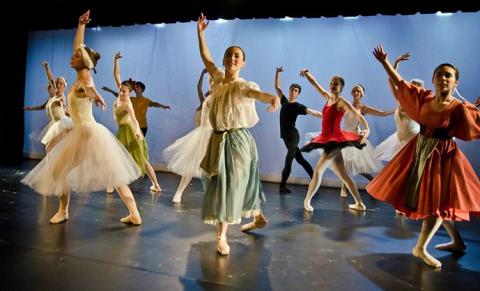 Yale Undergraduate Ballet Company is Yale's only dance group devoted solely to ballet technique and performance. Despite our name, we welcome students from all graduate and professional schools as well.
The company offers a space for ballet dancers at Yale to work seriously on technique and enjoy performance opportunities each year. We would love to see you at auditions no matter what your level—some of our dancers have trained and performed professionally, while others are just returning to dance in college.
Unique among Yale's dance groups, YBC stages annual full-length story ballets; past productions include A Midsummer Night's Dream and The Legend of King Arthur. These sellout performances usually take place at the Co-op High School Theater, a beautiful full-size auditorium located off-campus. Most importantly, story ballets offer opportunities to grow as a dancer, an actor, and a choreographer.
We prioritize regular technique class to keep our dancers healthy and strong. We offer student-taught company classes once a week on Sunday evenings, and professionally taught classes each Tuesday through our partnership with New Haven Ballet. Additional class options include the Payne-Whitney Ballet Classes as well as the New Haven Ballet Open and Student Divisions, which we attend in groups at a discounted rate.
We offer a straightforward audition consisting of a full ballet barre and center, with optional pointework, variation, and partnering sections. We hope to see you there!