Metamorphoses
In Memory of Dean Leslie Woodard
by Theresa Oei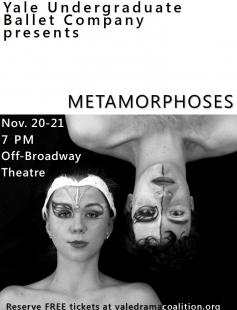 "What we have been or are today, we shall not be tomorrow" Ovid, MetamorphosesThe theme of change in Ovid's Metamorphoses reflects a significant facet of the human experience which may also be found in the art form of ballet. Transformation and the nature of change are at the heart of many classical ballets including Swan Lake, Giselle, Coppelia, and Paquita. In this year's winter showcase, the Yale Ballet Company will present a variety of excerpts and variations, which explore the volatile and transient nature of life through aesthetic expression.
For all inquiries, please contact:
Performance Dates & Times
November 20, 2013 - 7:00pm
November 21, 2013 - 7:00pm
Location
Venue Accessibility:
Building is accessible via a ramp at the main entrance. Seating and facilities are available on the main floor.