The Nutcracker Suite & New Student Choreography
by Yale Undergraduate Ballet Company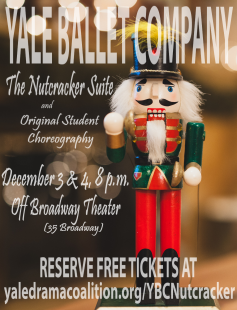 Join the Yale Undergraduate Ballet Company in its performance of excerpts from this timeless classic that has captivated the hearts and minds of young and old for centuries. Our production will feature a live orchestra performing the iconic score by Tchaikovsky. The second act of our production will be a showcase of original student choreography with styles ranging from classical to modern and jazz. Reserve your free tickets today!
For all inquiries, please contact:
Performance Dates & Times
December 3, 2015 - 8:00pm
December 4, 2015 - 8:00pm
Location
Venue Accessibility:
Building is accessible via a ramp at the main entrance. Seating and facilities are available on the main floor.
Patron Information
119 Maplevale Drive