The Passover Question
by Erica Wachs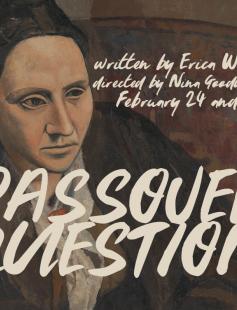 What makes this night different from all other nights? "The Passover Question" by Erica Wachs is an original play that will be presented as a staged reading on February 24 and 25. The play alternates between the lives of Gertrude Stein and her family in Vichy, France in 1941, and a contemporary Jewish family at their Passover Seder in 2016. The play primarily follows Sarah, a Jewish girl in hiding in 1941, and her contemporary counterpart in 2016. Along with Sarah and Gertrude Stein, the show comments on families, war, religion, discrimination, and art from the mid-20th century to now.
For all inquiries, please contact:
Performance Dates & Times
February 24, 2017 - 8:00pm
February 25, 2017 - 8:00pm
Location
Venue Accessibility:
Upper level and stage level seating, as well as the lobby and facilities, are all accessible via an elevator just inside the door from the courtyard.