Schrodinger High
by Cassandra Hsiao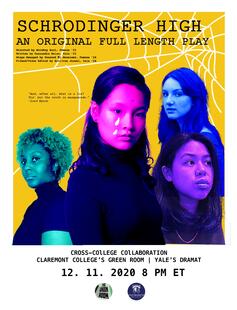 Inspired by real-life snakes from the playwright's very own high school experience, you do NOT want to miss this original full-length ensemble play premiering Friday, December 11, 2020 at 8pm ET, followed by a LIVE ZOOM TALKBACK with the cast and crew.
If your life was perfect and you had it all, wouldn't you do anything to keep it that way? Tally's accustomed to her best friends Gemma, Bianca, and new girl Weili revolving around her. She's got the school wrapped around her pinky–or so she thought. When senior year rolls around and the group starts to fracture under academic and social pressure, Tally finds ways to bring them back together, no matter the cost.
SCHRODINGER HIGH was made possible by the Yale Dramat BIPOC Theatermakers grant, as well as collaboration with the Claremont Colleges' Green Room. It is a unique cross-college and cross-country theatrical collaboration made possible through the world of Zoom.
***Suitable for ages 14+. Contains mild to moderate language, sexual references, and topics surrounding death and suicide.
For all inquiries, please contact:
Performance Dates & Times
December 11, 2020 - 8:00pm
Location
Venue Accessibility:
Contact the email listed above or the producer for inquiries regarding accessibility.
Patron Information
This filmed and edited theatrical production will also live on YouTube afterwards, so even if you can't make it to the event, please sign up for a ticket so we can send you the link following the livestream!