Saturdays
by Farrah Rothman & Walker Caplan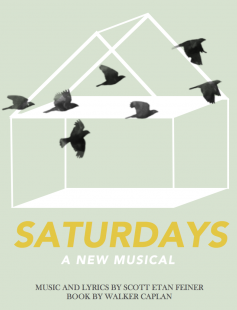 In this new musical, Eric and Kathleen are hiding something from their anxious, environmentally conscious son, Noah. Noah thinks Eric is an avid birdwatcher, but Eric's bird watching is a cover story to hide the fact that Eric spends his Saturdays as a talented drag queen. On the day that Noah is to receive a big award, the foundation of secrecy keeping the family stable begins to shake as Noah discovers what's been lurking beneath the surface. As tensions heighten and Noah's anxieties physically manifest in the form of a very muscular and sexy protein powder spokesman, it becomes clear that this Saturday won't end without a few breakdowns. Saturdays asks: How do you find truth after living a lie? Where does the performance end? It fuses realism with camp to explore pressing, ever-relevant issues of gender, identity, and family. 
music/lyrics - Farrah Rothman
book - Walker Caplan
Performance Dates & Times
April 25, 2018 - 8:00pm
April 26, 2018 - 8:00pm
April 27, 2018 - 7:00pm
April 27, 2018 - 10:00pm
Location
Venue Accessibility:
Lobby is accessible via building entrance by the north Sachem Street gate. Upper lobby and balcony seating is located on the ground level. Lower lobby and stage level seating is accessible via an elevator. Facilities are located on both levels.