Man of La Mancha
When life itself seems lunatic, who knows where madness lies?
by Dale Wasserman, Mitch Leigh, and Joe Darion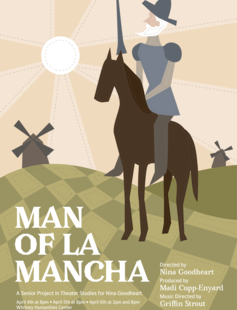 Man of La Mancha presents a few hours in the life of Miguel de Cervantes as he awaits trial by the Spanish Inquisition. During this time, Cervantes entertains his fellow prisoners by performing the story of Don Quixote, a madman who believes himself to be a knight errant. Featuring some of the most evocative songs in musical theater history, Man of La Mancha presents an unparalleled exploration of the intricate relationship between theater and madness.
Man of La Mancha is a senior project in Theater Studies for Nina Goodheart. 
Performance Dates & Times
April 4, 2019 - 8:00pm
April 5, 2019 - 8:00pm
April 6, 2019 - 2:00pm
April 6, 2019 - 8:00pm
Location
Theater and Performance Studies black box, 53 Wall Street
For all inquiries, please contact: