CANCELLED: Falsettos
"Life is never what you planned, life is moments you can't understand…"
by William Finn and James Lapine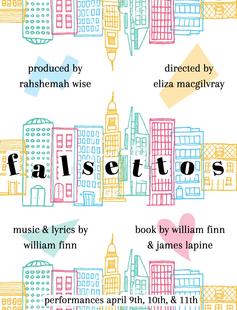 It's 1979 in New York City, and Marvin has just left his wife for another man. Struggling to salvage his personal relationships and yearning for a "tight-knit family" to call his own, he (along with his ex-wife, new lover, neurotic psychiatrist, soon-to-be-Bar Mitzvah'd son, and the lesbians from next door) is forced to reckon with his own views on love, responsibility, and what it means to be a man. Falsettos is a hilarious and poignant look at the infinite possibilities that make up a modern family – and a reminder that love can tell a million stories.
Performance Dates & Times
April 9, 2020 - 8:00pm
April 10, 2020 - 8:00pm
April 11, 2020 - 2:00pm
April 11, 2020 - 8:00pm
Tickets not yet available, check back soon!
For all inquiries, please contact: