Yale Drama Coalition's Freshman Showcase
by Favorite Playwrights of Yale's Freshman Class!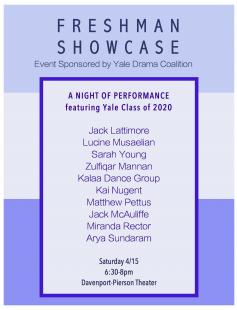 Come one, come all on Bulldog Saturday to see what the talented theater freshman have been getting up to this year! Saturday, 4/15, 6:30-8p, Davenport-Pierson Theater! Between some performances, there will be short speeches by YDC officers explaining to the audience how to get involved in performance art at Yale, but everyone no matter their experience should come out to support the freshman class! There will be food!
For all inquiries, please contact:
Performance Dates & Times
April 15, 2017 - 6:30pm
Location
Davenport-Pierson Auditorium
Venue Accessibility:
Lobby is accessible via building entrance by the north Elm Street gate. Upper seating level is accesible via lobby entrance. Lower seating and stage level is accesible via elevator in lobby.