Unmerciful Good Fortune
by Edwin Sánchez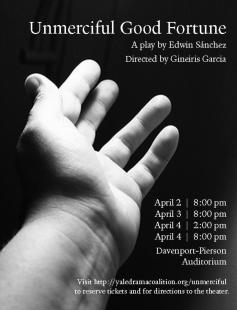 In this play of warped and repressed desires, we follow Maritza, a successful assistant district attorney, through her encounter with Fatima, a mass murderer who can read the life of whoever holds her hand. As Maritza and Fatima's differences clash, we see a game unfold into a fateful cry for help as Maritza searches for a solution to her mother's sickness and the disintegration of her home in Fatima's unyielding demand for Maritza's hand. Sánchez explores class, race, gender, family, friendship, love in all its forms, personal worth, and the ethics of euthanasia.
For all inquiries, please contact:
Performance Dates & Times
April 2, 2015 - 8:00pm
April 3, 2015 - 8:00pm
April 4, 2015 - 2:00pm
April 4, 2015 - 8:00pm
Location
Davenport-Pierson Auditorium
Venue Accessibility:
Lobby is accessible via building entrance by the north Elm Street gate. Upper seating level is accesible via lobby entrance. Lower seating and stage level is accesible via elevator in lobby.