Riders to the Sea
Presented by the Opera Theater of Yale College and the Yale Undergraduate Chamber Orchestra
by Ralph Vaughan Williams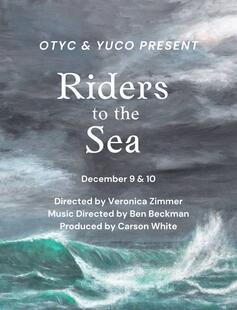 As our Winter Show, the Opera Theater of Yale College, in collaboration with the Yale Undergraduate Chamber Orchestra, is proud to present Ralph Vaughan Williams's one-act opera Riders to the Sea, based on the play of the same name by J.M. Synge. The opera deals with themes of existentiality, fatalism, and the conflicts between tradition and modernity, encapsulated in a moving story of a mother and her daughters who have lost their father and seven brothers to the cruelty of the sea.
We will be holding auditions in September! Please feel free to contact Ben (ben.beckman@yale.edu) or Veronica (veronica.zimmer@yale.edu) with any questions, or if you're interested in helping out on the production team!
For all inquiries, please contact:
Performance Dates & Times
December 9, 2022 - 8:00pm
December 10, 2022 - 2:00pm
Location
Venue Accessibility:
Contact the email listed above or the producer for inquiries regarding accessibility.
Tickets not yet available, check back soon!
Patron Information
This performance is open to asymptomatic patrons with an up-to-date COVID-19 vaccination. Patrons should carry vaccination documentation and be prepared to show it if asked.