Passion
by Stephen Sondheim and James Lapine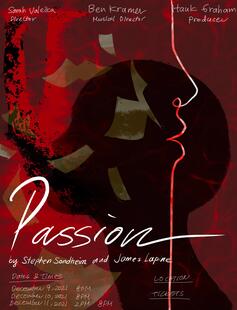 Unfolding in a nineteenth century Italian military outpost, Passion tells the story of an army captain pulled miles away from his mistress, soon crossing paths with the fascinating and obsessive Fosca, cousin of his Colonel.  This Tony Award-winning musical by Stephen Sondheim and James Lapine delves into the dark realms of infatuation, illness, and power, and probes how deeply intertwined love and destruction can be. 
*Note: This show does include intimacy and brief violence. 
Performance Dates & Times
December 9, 2021 - 8:00pm
December 10, 2021 - 8:00pm
December 11, 2021 - 2:00pm
December 11, 2021 - 8:00pm
Location
Venue Accessibility:
Contact the email listed above or the producer for inquiries regarding accessibility.
Tickets not yet available, check back soon!
Patron Information
December 9-11