OTYC: Always/Sāvitri
by By Jonathan Bailey Holland/Gustav Holst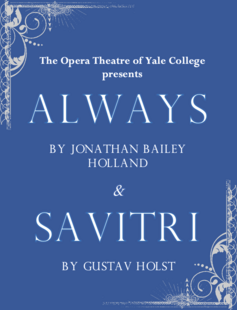 As a double-bill production, Always/Sāvitri focuses on the strength of love and how far people will go to save their relationships.
Always, composed by Jonathan Bailey Holland, tells the story of a couple — Ellen and Joe — both at the start of their relationship and at the end of it. The ten-minute opera intertwines the sparkling naiveté of a new relationship with the bitter reality of it later in time.
Sāvitri, composed by Gustav Holst, is a 25-minute chamber opera that recounts the epic romance of Sāvitri and her husband Satyavān, two characters from the Sanskrit epic the Mahābhārata. When Death comes for Satyavān, Sāvitri asks him to grant her life — the life of her husband, Satyavān.
For all inquiries, please contact:
Performance Dates & Times
October 9, 2021 - 2:00pm
Location
Venue Accessibility:
Venue lobby is accessible via elevators located near both the Morse and Stiles dining halls. Upper seating is accessible via main venue entrance. Facilities and stage level seating are accessible via a ramp to the left of the main venue entrance.