La Negra: A Bomba Musical
by Saphia Suarez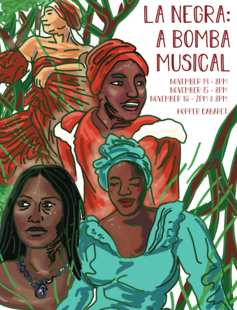 "La Negra" portrays the history of Afro Puerto Rican women on the island leading their communities on a path to liberation, from Yuisa, the first female Taino chieftain on the island, to Colectiva Feminista, a feminist group that helped organize recent protests on the island as it struggles to recover from hurricane Maria. The recent uprising in Puerto Rico has exhibited a unique balance between anger and joy, exemplifying the joy as liberation at the heart of Puerto Rican culture. This musical uses traditional bomba song and dance to portray this joy and liberation.
La Negra: A Bomba Musical was made possible with support from a Women at Yale Arts Grant as part of the 50 Women At Yale 150 Celebration.
Performance Dates & Times
November 14, 2019 - 8:00pm
November 15, 2019 - 8:00pm
November 16, 2019 - 2:00pm
November 16, 2019 - 8:00pm
For all inquiries, please contact:
Patron Information
There will be a talkback for all interested after the Saturday matinee.
Media and Downloads
Maria Sides
(.pdf - 61.43KB)
Adolfina Sides
(.pdf - 54.58KB)
Yuisa Sides
(.pdf - 149.49KB)