Jauchzet, Frohlocket: Cantatas for Christmas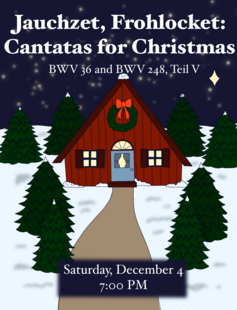 Johann Sebastian Bach's residency in Leipzig marks a period of creative abundance for the composer. A devout Lutheran, it was during his employment at the Thomaskirche that he completed multiple cantata cycles for the liturgical year, as well as his magnificent Christmas Oratorio. 
"Jauchzet, Frohlocket: Cantatas for Christmas" is an exploration of Bach's unique position as both a prolific composer and an expertly knowledgeable theologian. This performance will consist of two cantatas: BWV 36 "Schwingt freudig euch empor" and BWV 248, part 5: "Ehre sei dir, Gott, gesungen." By means of historically-informed performance, this concert aims to give insight into the musical practices of the late Baroque period, the theological significance of the Christmas season in the 18th-century Lutheran church, and Bach's use of self-parody in his compositions.
View the livestream here.
(Event poster by Rahshemah Wise)
For all inquiries, please contact:
Performance Dates & Times
December 4, 2021 - 7:00pm
Location
Yale Glee Club Room (Hendrie Hall 201)
Patron Information
Per Yale University's COVID-19 safety policies, in-person attendance is limited to current, asymptomatic, vaccinated members of the Yale Undergraduate Ensembles (Bands, Glee Club, YSO), undergraduate students taking lessons for credit, and Yale School of Music students, faculty, and staff.