Ives' Shorts: an Evening of David Ives' One-Acts
A Senior Project for Kaley Sullivan
by David Ives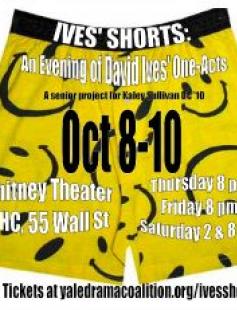 Five one-act plays by David Ives in an evening of ridiculous fun.Degas, C'est Moi, Foreplay or: the Art of the Fugue,The Mystery at Twicknam Vicarage, Variations on the Death of Trotsky, The Philadelphia A senior project for Kaley Sullivan DC '10.
For all inquiries, please contact:
Performance Dates & Times
October 8, 2009 - 8:00pm
October 9, 2009 - 8:00pm
October 10, 2009 - 2:00pm
October 10, 2009 - 8:00pm
Location
Theater, Dance, and Performance Studies Black Box
Venue Accessibility:
Building is accessible via a ramp on the Church Street side. Venue and facilities are located on the main floor.