Good Sam
Sam, a self righteous employee at an absurdly expensive clothing store, has his values tested when a young Black customer is accused of shoplifting.
by TJ Noel-Sullivan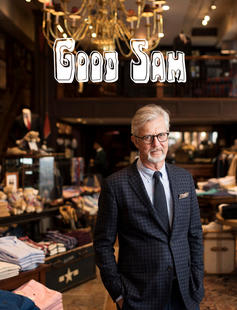 Sam is an employee at Foulds & Co, a luxury men's clothing store in the heart of the city.  He works alongside Eric, a politically incorrect oaf with an excuse for everything, and his boss, Mr. Foulds, a member of the aristocracy. As Sam interacts with the customers of the store, we notice two things. First, everyone is whiter than a pearl necklace. Second, the only thing that matters is money. You buy clothes here not because they look nice, but because they cost more. And Sam, our protagonist, is the only one woke enough see things as they are.
Sam is challenged to take real action when Rajon, a Black 18-year-old, walks in. Eric starts following Rajon around the store, and tensions begin to build. Luckily, Sam is the White savior Black America needs, and he intervenes, even getting Rajon a nice discount. Just as Rajon is about to leave, Eric accuses him of stealing a watch. Sam tries to play mediator, but before he can solve the problem, Mr. Foulds cuts in and presents Sam with a choice. Rajon, and the "morally right" option — or the store, and his chance at a promotion. At this point, Sam's pretend wokeness can only go so far. He assumes his natural place in the system of racial oppression, but still is shocked when he looks in the mirror and sees the same racist monster he's projected on to his co-workers.
Shooting will take place in Brookylnn, during the first week of spring break.
For all inquiries, please contact:
Shooting Period
March 11, 2019 to March 13, 2019