God Help the Girl
The story of three songwriters in the right place at the right time
by Stuart Murdoch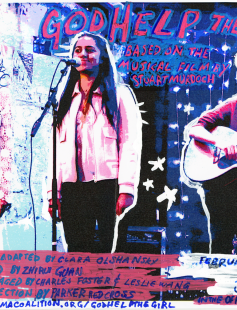 God Help the Girl, based on the musical film by Stuart Murdoch ( https://www.youtube.com/watch?v=6jc2gHpNbyc ), is an indie pop musical that tells the story of a young woman trying to rescue herself through music, a young man determined to create something of lasting value, and a girl who really just wants to write some songs. 
Performance Dates & Times
February 1, 2018 - 8:00pm
February 2, 2018 - 8:00pm
February 3, 2018 - 2:00pm
February 3, 2018 - 8:00pm
For all inquiries, please contact:
Patron Information
Patrons should arrive at the theater 15 minutes before the performance to claim their reservation. At the scheduled performance time, patrons will be let in off of the waitlist based on when they signed up on the YDC website. Patrons with reservations arriving after this time will be treated as if they are at the top of the waitlist. Please see the full policy 
here
.