Glass Act
J.D. Salinger, nervous breakdowns, and bananafish.
by Cleo Handler & Alex Ratner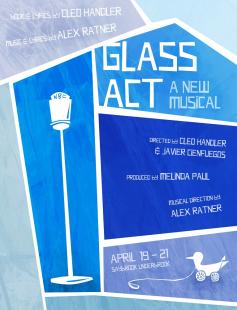 Book & Lyrics by Cleo HandlerMusic & Lyrics by Alex RatnerAn original musical inspired by J.D. Salinger's "Glass Family" short stories and novellas, including Franny and Zooey and "A Perfect Day for Bananafish". The adventures of a 1930s family of celebrity whiz kids: on the radio, in World War II, and even at Yale.
Performance Dates & Times
April 19, 2012 - 8:30pm
April 20, 2012 - 8:00pm
April 21, 2012 - 2:00pm
April 21, 2012 - 7:00pm
For all inquiries, please contact: