Cinematic: A Different Drum Dance Company's Fall Showcase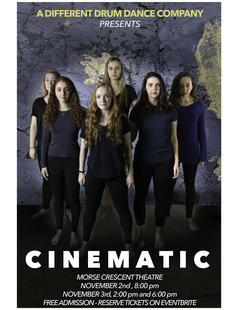 Please take a seat, silence your cell phones, eat your *popcorn, and get ready for this year's guaranteed Oscar winner, A Different Drum Dance Company's Fall showcase of original student choreography! The show is full of dance numbers (in fact, mostly just dance numbers) with comedic interludes. Sad dances, dramatic dances, angry dances, romantic dances, experimental dances, theatre and dance…. we've got it all. 
Admission is free, but you can reserve tickets through eventbrite! 
https://www.eventbrite.com/e/cinematic-by-a-different-drum-dance-company…
* Popcorn will not be provided
For all inquiries, please contact:
Performance Dates & Times
November 2, 2018 - 8:00pm
November 3, 2018 - 2:00pm
November 3, 2018 - 6:00pm
Location
Venue Accessibility:
Venue lobby is accessible via elevators located near both the Morse and Stiles dining halls. Upper seating is accessible via main venue entrance. Facilities and stage level seating are accessible via a ramp to the left of the main venue entrance.