Causation
by Lulu Klebanoff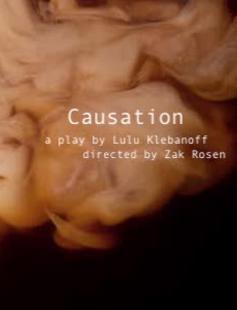 Causation is an original play about free will and human connection. We see a series of people go through the world trying and failing and trying to love and to be kind and to be together. This play asks many questions and it does not pose answers, because we do not have them. This is something we hope to help figure out together.
Individuals of any levels of experience creating theater are encouraged to audition or get involved, we would love to have you. As a part of our process we are planning on hosting a series of workshops open to all memebrs of the Yale community to hone and explore various theatrical techniques. This should be a chance to learn for everyone involved. It is important to the production team of Causation that everyone, whether they be acting or working behind the scenes, feel as safe, healthy, and supported as possible throughout this process. Sometimes Yale students can get a little caught up in our work, but we are people first. We hope to treat ourselves as such. Please reach out if you have any questions or interest, auditions and show dates coming soon. 
Thank you.
Performance Dates & Times
October 10, 2019 - 8:00pm
October 11, 2019 - 8:00pm
October 12, 2019 - 8:00pm
Tickets not yet available, check back soon!
For all inquiries, please contact: