Beautiful Little Fools
A Senior Project for Tessa Williams
by Tessa Williams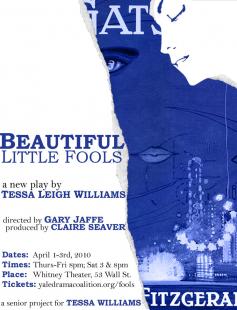 I don't want to live – I want to love first, and live incidentally.-Zelda Sayre FitzgeraldOn April 3rd, 1920, F. Scott Fitzgerald married Zelda Sayre. The King and Queen of the Jazz Age, they were the picture perfect poster children for the roaring 20s: He was a budding author. She was the world's first flapper. They were socialites. The were expatriates. They were hopelessly in love.But as years of cocktails and jealousy take there toll, the question quickly becomes not only will their relationship prevail, but will they themselves survive?directed by Gary Jaffeproduced by Claire Seaverstarring:Tessa Leigh WilliamsMatthew GeorgeWill TurnerApril 1-3rd, 2010Thursday at 8pmFriday at 8pmSaturday at 3pm & 8pmat the Whitney TheaterSeating is VERY limited, so get on it!
For all inquiries, please contact:
Performance Dates & Times
April 1, 2010 - 8:00pm
April 2, 2010 - 8:00pm
April 3, 2010 - 3:00pm
April 3, 2010 - 8:00pm
Location
Theater, Dance, and Performance Studies Black Box
Venue Accessibility:
Building is accessible via a ramp on the Church Street side. Venue and facilities are located on the main floor.