Angels in America, Part Two: Perestroika
A Senior Thesis in Theater Studies for Catherine Alam-Nist
by Tony Kushner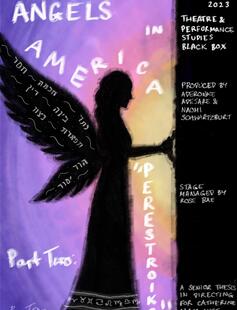 Angels in America: Perestroika is the second half of Tony Kushner's epic pair of plays. Set in the midst of the AIDS epidemic, Perestroika follows a cast of characters whose experiences vary vastly as pertains to race, class, gender, sexuality, religion (or lack thereof) and politics; however, all are united in being somehow on the precipice of drastic change in their lives, wanted or not. Both a continuation of Kushner's first play, and very much an independent play in its own right, Perestroika is distinctive for its groundbreaking depiction of human life, migration, transience and movement as not only sacred when referred to in a select few settings (i.e., the church, shul, temple, etc.), but as divine in and of itself; it also radically extends who is permitted to be depicted as holy onstage.
This production will aim to take this radical queering of sacredness onstage even further than prominent past stagings of the text have done, via exploring it from a distinctly trans and observantly Jewish perspective, examining the play's themes of change, transience and transcendence through the lens of these experiences. It also will explore experiences of divinity within these communities when experienced simultaneously with illness, which is a topic that feels all the more pertinent amid the COVID pandemic.
We strongly encourage queer, trans, gender minority, BIPOC, and Jewish people/people interested in the faith to audition. We also genuinely want first-time theatremakers on our production team and in our cast (like, we're not just saying that); if you've never done theatre at Yale before, or at all, but are at all interested in the project, please feel encouraged to reach out to one of our producers (naomi.schwartzburt@yale.edu and aderonke.adejare@yale.edu) or director (catherine.alam-nist@yale.edu) with any and all questions — we will be delighted to hear from you!
We will be casting in the October cycle. Please find all information for auditions in our audition packet: https://docs.google.com/document/d/16kPNB0y5e-h6R230R7W9qGZFyOgxHh5U6lGd…
For all inquiries, please contact:
Performance Dates & Times
April 6, 2023 - 8:00pm
April 7, 2023 - 8:00pm
April 8, 2023 - 2:00pm
April 8, 2023 - 8:00pm
Location
Theater, Dance, and Performance Studies Black Box
Venue Accessibility:
Building is accessible via a ramp on the Church Street side. Venue and facilities are located on the main floor.
Tickets not yet available, check back soon!
Patron Information
This performance is open to asymptomatic patrons with an up-to-date COVID-19 vaccination. Patrons should carry vaccination documentation and be prepared to show it if asked.
Yale-approved masks  are required for all audience members.