Yale's residential colleges provide art making spaces where students can hone existing skills or develop new ones. Students can find spaces to paint and draw; throw ceramics; weave, sew, and knit; and use a printing press. Scheduling and access to these spaces should be coordinated through the appropriate college office. Please note that these spaces are prioritized for use by students in that college.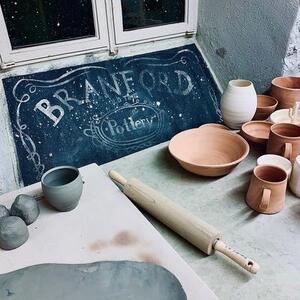 Branford College
Located in the Branford College basement between the Buttery and Entryway M, the Art Studio is equipped with easels and limited art supplies for those who are looking for a place to paint or draw.
Next door to the Art Studio, the Pottery Studio consists of three wheels, a wedging table, a full selection of glazes, and a kiln.
Branford College's Printing Press space includes a Vandercook Printing Press, Golding Automatic Press and Chandler & Price Treadle Press. If you have any questions about the Art Studio, you can contact Leslie Carmin, Associate Head of College. If you are a Branford student and would like access to the Art/Pottery Studio, please contact the Head of College office.
Visit the Branford College website for more information.
---
Davenport and Pierson Colleges
The Printing Press, Bookbinding Studio, Pottery Studio, and Digital Media and Arts Center are all located in the Davenport Underground. These facilities are available to the students of Davenport and Pierson Colleges.
The Bookbinding Studio provides students with the space, tools, and materials to create hand bound books. The Pottery Studio contains pottery wheels, high fire clay, glazes, an electric kiln, and a variety of pottery tools. Davenport's Digital Media & Arts Center is home to a movie editing station, a music station, and other digital media software and tools.
Visit the Davenport College website for more information.
---
Grace Hopper College
The Art Room is open to all Grace Hopper students interested in discovering or developing their artwork. The studio is equipped with paints, brushes, easels, and other art supplies.
The Grace Hopper ceramics studio is open to all Hopper students and benefits from the wisdom of College Arts Fellow Penelope Van Grinsven, and the energy of Hopper's student managers. Following an introductory orientation, students will be assigned a key allowing them access to the studio. There will be opportunities to attend a hands-on class to learn basic ceramics and pottery techniques throughout the year. For more information about the pottery studio ceramics or reservations, please contact Pottery Studio Manager Miriam Levine at miriam.levine@yale.edu.
Visit the Grace Hopper College website for more information.
---
Jonathan Edwards College

The JE printing press is located between Entryways C and D in the JE basement. Students can design and print manuscripts after completing a short orientation class. Students with questions may contact master printer, Jesse Marsolais.
Visit the Jonathan Edwards College website for more information.
---
Morse and Ezra Stiles Colleges
Morse College's Fabric Arts Studio is home to six looms, several sewing machines, a knitting machine, a large art table, and more. It is a space that students sign up to use as they commit to a weaving project and learn from Master Weaver Barbara Hurley. These facilities are open to students in Morse and Ezra Stiles.
Visit the Morse College website for more information.
---
Pauli Murray and Benjamin Franklin Colleges
The Pottery Studio in Pauli Murray College has equipment to produce pottery and Art Studio offers tools for drawing, painting, and other forms of art. The studio is open at set hours throughout the week and is an opportunity for art majors, artists, and all other students abundant opportunities to explore their creative side and develop pieces of art. These facilities are open to students in Pauli Murray and Benjamin Franklin Colleges.
Visit the Pauli Murray College website for more information.
---
Silliman College

Silliman College's Art Room and Bindery are located in the basement of Entryway A and are fully equipped with art supplies and tools and materials needed for bookbinding.
Visit the Silliman College website for more information.
---
Timothy Dwight College
Students interested in reserving the TD Art Studio must complete an art studio training with TD art studio aides prior to requesting access to the space and materials.
Visit the Timothy Dwight website for more information.
---
Trumbull College
The Trumbull College Art Studio has a wide array of art supplies including a drafting table, easels, a sewing machine, and an adjustable dress form. The Pottery Studio holds a kiln and other ceramics supplies.