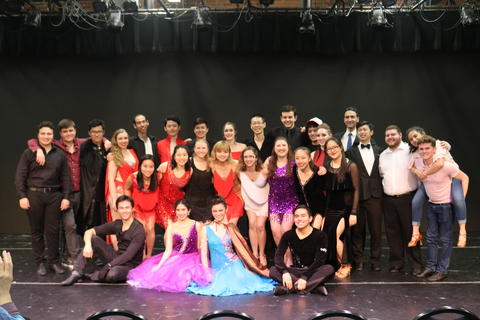 We are an autonomous organization of undergraduates, graduate and professional students, outlaws, male models, and other Yale affiliates who love the art of ballroom dancing. We dance for competitions, for performances, and most of all for fun.
We compete in International Standard (waltz, tango, Viennese waltz, foxtrot, and quickstep), International Latin (cha cha, samba, rumba, paso doble, and jive), American Smooth (waltz, tango, foxtrot, and Viennese waltz), and American Rhythm (chacha, rumba, swing, bolero, and mambo). In addition, our social dances include salsa, merengue, bachata, and hustle/disco.
The Yale Ballroom Dance Club is a satellite of the team for individuals and couples who enjoy social dancing. Club lessons teach dances like waltz, foxtrot, tango, salsa, merengue, bachata, swing, and hustle/disco. These lessons are designed for those who want to learn to dance at a casual but thorough pace, without the commitment and pressure of competitive ballroom dancing. You need not come with a partner, and no prior experience is required. 
Yale Ballroom Dance Team on Yale Connect
Yale Ballroom Dance Team Website
Yale Ballroom Dance Team on Facebook