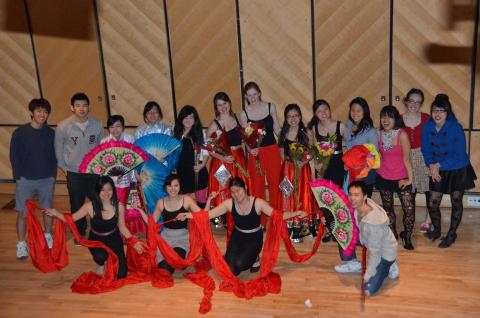 The Phoenix Dance Troupe is an entirely student-run Asian traditional dance troupe. We hope to bring students from all backgrounds together to celebrate the rich and diverse dance traditions from different regions across China. We perform dance pieces from different ethnic Asian groups and regions: from the Tibetan plateaus to the Mongolian steppes; the water villages of the South to the northwestern deserts.
We also teach and perform Asian dances on Yale's campus and in the neighboring community. Over the years, Phoenix has performed at various cultural events, including the Chinese American cultural show and Kaleidoscope. Through its performances, the group hopes to spread both artistic and cultural awareness to its members and audiences. Members participate in numerous big and small traditional dances throughout the year and are also encouraged to choreograph their own pieces.
We welcome dancers of all backgrounds and levels – no experience necessary. We do not hold auditions, and our troupe includes both males and females. Just show your interest and welcome aboard!
Phoenix Dance Troupe on Facebook