Zero or More Disposable Lessons
by Objects in Performance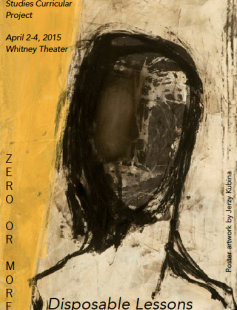 A devised performance confronting the work of Polish painter, assemblage artist, set designer, and theater director, Tadeusz Kantor. Zero or More Disposable Lessons explores the mechanics of memory, anatomy of oppression, disposability of bodies, and dancing objects.
For all inquiries, please contact:
Performance Dates & Times
April 3, 2015 - 8:00pm
April 4, 2015 - 8:00pm
Location
Theater and Performance Studies black box, 53 Wall Street
Venue Accessibility:
Building is accessible via a ramp on the Church Street side. Venue and facilities are located on the main floor.