YUJC Underbrook Series Presents the Joel Ross Quartet
by Yale Undergraduate Jazz Collective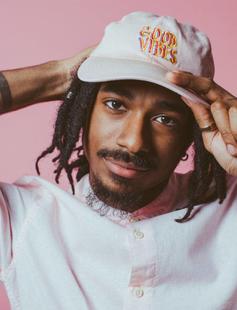 Please join us in welcoming the Joel Ross quartet led by vibraphonist Joel Ross to our second YUJC Underbrook series concert! The show will run approximately 75 minutes, and it will be free and open to the public.
7:45PM: Doors Open
8PM: Show starts
—
Parking
There is free parking at Lot 78W, located at 78 Lake Pl New Haven, CT 06511, and at Lot 51, located behind Hendrie Hall at 165 Elm St, New Haven, CT 06511. Street parking (metered) can be found on Elm Street outside Saybrook College.
—
"I never had a doubt that I was going to do music," says Joel Ross, the most thrilling new vibraphonist in America. "My whole life it was just about finding a way to do it." In the past few years, keeping up with all of those ways has, for aficionados, turned into a virtuosic practice unto itself. The Chicago-born, Brooklyn-based player and composer has a way of being everywhere interesting at once: from deeply innovative albums (Makaya McCraven's Universal Beings, Walter Smith III & Matthew Stevens' In Common) to reliably revolutionary combos (Marquis Hill's Blacktet, Peter Evans' Being & Becoming) to the buzzing debut of Blue Note's 2018 breakout star James Francies (Flight). Even with his own bands—which include quartets and a large ensemble dedicated to the works of and in-the-style-of Ornette Coleman and Keith Jarrett's American Quartet—Ross is basically a living blur of mallets and talent and ideas. But 2019 is his year to be the star as he joins the Blue Note Records roster and adds his name to an illustrious jazz vibraphone legacy on the label that extends from Milt Jackson and Bobby Hutcherson to Stefon Harris and now Ross.
For all inquiries, please contact:
Performance Dates & Times
November 8, 2019 - 8:00pm
Location
Venue Accessibility:
Lobby is accessible via elevator near the Head of College's office inside entryway I. Balcony level seating is accessible via lobby entrance. Stage level seating requires the use of stairs.