Yaledancers: Rumors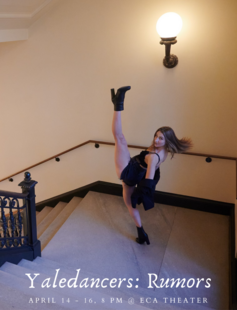 YD is excited to present Yaledancers: Rumors, our 2022 Spring Show, April 14, 15, and 16 at 8:00 PM at the ECA Theatre. We will be performing a variety of styles including ballet, jazz, contemporary, tap, musical theater, and modern dance. Hope to see you there!
Tickets are available on Eventbrite.
For all inquiries, please contact:
Performance Dates & Times
April 14, 2022 - 8:00pm
April 15, 2022 - 8:00pm
April 16, 2022 - 8:00pm
Location
Venue Accessibility:
Contact the email listed above or the producer for inquiries regarding accessibility.
Patron Information
This performance is open to asymptomatic patrons with an up-to-date vaccination status.
Front of House staff will be checking tickets, IDs, and proof of vaccination.
Yale-approved masks  are required for all audience members.