Yaledancers: Here We Go Again!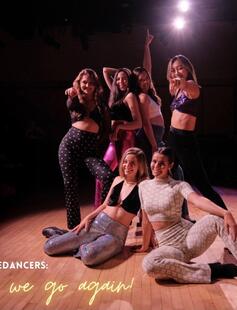 Yaledancers is excited to present our 2021 Fall Show, December 2, 3 at 8:00 PM and December 4 at 2:00 PM and 8:00 PM at the ECA Theatre. We will be performing a variety of styles including ballet, jazz, contemporary, tap, musical theater, and modern dance. Hope to see you there!
For all inquiries, please contact:
Performance Dates & Times
December 2, 2021 - 8:00pm
December 3, 2021 - 8:00pm
December 4, 2021 - 2:00pm
December 4, 2021 - 8:00pm
Location
Venue Accessibility:
Contact the email listed above or the producer for inquiries regarding accessibility.
Patron Information
This performance is only open to asymptomatic vaccinated Yale students, faculty, and staff. Students currently on leave are considered visitors and may not attend performances. Front of House Staff will be checking Yale IDs at the door. Be sure to arrive at the venuev at least 20 minutes before performance start time.
The December 3 and December 4 evening (8 PM) performances will be livestreamed. Please go to the Eventbrite page for more information.