The Yale Playwrights Festival 2016
Two days. Five new plays. Free admission.
by Yale undergraduates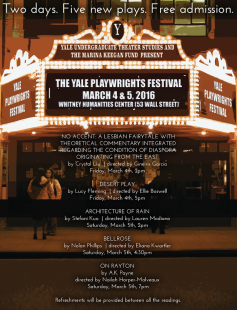 Come see five brand-new plays by Yale undergraduate playwrights in a weekend of readings! Each reading will be followed by a talkback moderated by the playwright's mentors, and refreshments will be served throughout.NO ACCENT: A LESBIAN FAIRYTALE WITH THEORETICAL COMMENTARY INTEGRATED REGARDING THE CONDITION OF DIASPORA ORIGINATING FROM THE EASTby Crystal Liudirected by Gineiris GarciaFriday, March 4th, 2pmDESERT PLAYby Lucy Flemingdirected by Ellie BoswellFriday, March 4th, 5pmARCHITECTURE OF RAINby Stefani Kuodirected by Lauren ModianoSaturday, March 5th, 2pmBELLROSE by Nolan Phillipsdirected by Eliana KwartlerSaturday, March 5th, 4:30pmON RAYTONby A.K. Paynedirected by Nailah Harper-MalveauxSaturday, March 5th, 7pm
For all inquiries, please contact:
Performance Dates & Times
March 4, 2016 - 2:00pm
March 4, 2016 - 5:00pm
March 5, 2016 - 2:00pm
March 5, 2016 - 4:30pm
March 5, 2016 - 7:00pm
Location
Theater and Performance Studies black box, 53 Wall Street
Venue Accessibility:
Building is accessible via a ramp on the Church Street side. Venue and facilities are located on the main floor.