Yale Jazz Festival: A conversation with Tia Fuller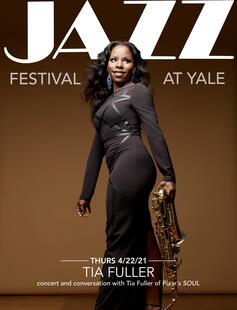 The YUJC invites you to join us for the second event of the Yale Jazz Festival: a conversation with saxophonist Tia Fuller, conducted by YUJCer Loren Bass-Sanford '23. Tia is an accomplished Grammy-nominated recording artist with five studio albums, and is a professor at Berklee College of Music. She recently entered the realm of animated film, recording the saxophone sounds and providing the character inspiration for Dorothea Williams, one of the main characters in Pixar's film Soul. Join this event to hear more about Tia, her role in the film, and its significance for Black women in jazz. The interview will be followed by a brief showing of one of Tia's performances prior to the pandemic.
More information will be available on the Facebook event: https://fb.me/e/26g8nVqHy
Disclaimer: This performance was filmed before the onset of the COVID-19 pandemic.
For all inquiries, please contact:
Performance Dates & Times
April 22, 2021 - 8:00pm
Location
Venue Accessibility:
Contact the email listed above or the producer for inquiries regarding accessibility.
Patron Information
More information will be available on the Facebook event: https://fb.me/e/26g8nVqHy