Yale Dance Theater 2019: D-Man in the Waters
by Bill T. Jones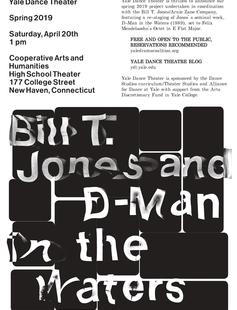 Yale Dance Theater is thrilled to announce our spring 2019 project undertaken in coordination with
the Bill T. Jones/Arnie Zane Company, featuring a re-staging of Jones's seminal work, D-Man in the
Waters (1989), set to Felix Mendelssohn's Octet in E Flat Major.
 
Bill T Jones is an artistic powerhouse known for his provocative, political, heart-filled dances that
deploy formal postmodern experimentation to speak to urgent sociopolitical issues of our time.
Jones received an honorary degree from Yale in 2009 and will return again in February 2019 to
receive the James Robert Brudner Memorial Prize from LGBT Studies at Yale.
 
Marking resilience in the face of loss, D-Man in the Waters is one of the most significant works of art
to come out of the era of AIDS. Against this historical backdrop, the choreography is thrillingly
alive—offering a portrait of a community's ability to survive. D-Man significantly raises the stakes of
the question: Why do we dance? Current and former members of the Bill T. Jones/Arnie Zane
Company will lead the reconstruction at Yale.
 
For all inquiries, please contact:
Performance Dates & Times
April 20, 2019 - 1:00pm
Location
Co-Op High School Theater
Venue Accessibility:
Contact the email listed above or the producer for inquiries regarding accessibility.