Yale Dance Lab - Rite of Spring Choreographic Workshop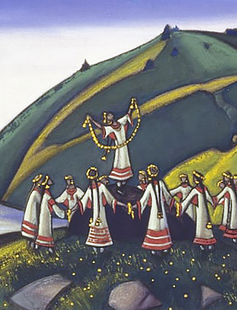 An Open Rehearsal showcasing the work so far in creating brand new choreography to be performed by the Yale Dance Lab with the Yale Symphony Orchestra in Spring of 2023 in a brand new co-production to celebrate the 110th anniversary of Stravinsky's Rite of Spring.  
The production will be co-choreographed by Emily Coates and Lacina Coulibaly, with musical direction by YSO conductor William Boughton.
Dancers:
Laila Blavatnik (Berkeley '23), Lexi Dalrymple (Stiles '25), Sophia DeVito (Trumbull '23), Tadea Martin-Gonzalez (Jonathan Edwards '24), Gabrielle Niederhoffer (Pierson '23), Virginia Peng (Murray '25), Talia Rothstein (Yale Law School), Santana Vannarath (Berkeley '24), Gabrielle Welbel (Murray '23), Isabella Zou (Timothy Dwight '23)
For all inquiries, please contact:
Performance Dates & Times
March 8, 2022 - 4:00pm
Location
Venue Accessibility:
Venue lobby is accessible via elevators located near both the Morse and Stiles dining halls. Upper seating is accessible via main venue entrance. Facilities and stage level seating are accessible via a ramp to the left of the main venue entrance.
Patron Information
This performance is open to asymptomatic Yale students, faculty, and staff with an up-to-date vaccination status. Please bring your COVID 19 vaccination card, a clearly legible photo of your vaccination card on your phone, or your MyChart vaccination confirmation and a photo ID. Front of House staff will be checking tickets, IDs, and proof of vaccination. Yale-approved masks are required for all performers and audience members.