Yale CUPSI Team Poetry Slam
by WORD Performance Poetry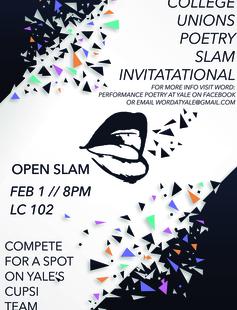 Interested in touring the country & perform ing your poetry alongside the freshest literary voices of our generation? Interested in meeting a bunch of famous poets? Interested in growing as a writer and performer? Try out for Yale's Traveling Slam Team: a slam poetry group formed each year to write, grow, and throw down in slams (performance poetry competitions) together. In addition to having multiple poetry groups, Yale also has a competitive slam poetry team comprised of 5 undergraduates, which is chosen every year through an on-campus poetry slam. If this interests you, open tryouts to join the Yale delegation for the annual 19th annual College Unions Poetry Slam Invitational (CUPSI) will be February 1st, 2019 in The Founder's Room in the House!
If you're not quite ready to join us on the stage, we need audience just as much as we need poets; we choose members from the audience randomly to judge our poets, so be sure to make it either way!
If you're interested, you can sign up using the link below, and we'll send you more information, but always feel free to contact at wordatyale@gmail.com.
https://goo.gl/forms/tmSX9cgIBmRFEYLJ2
Also: as a disclaimer, we are submitting grants currently to fund the team entirely, though we are confident in receiving funding
Performance Dates & Times
February 1, 2019 - 8:00pm