The Waves
A student-written opera produced by the OTYC!
by Alex Weiser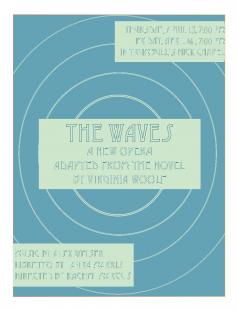 The Waves is a student-written opera, based on the novel by the same name by Virginia Woolf. A short, fascinating look at the complexity of humanity, love, and storytelling over the lifetimes of seven characters.Libretto: by Laura MarrisMusic: by Alex Weiser
For all inquiries, please contact:
Performance Dates & Times
April 15, 2010 - 7:00pm
April 16, 2010 - 7:00pm
Location
Venue Accessibility:
Lobby, upper level seating, and facilities are accessible via an elevator inside the entrance to the Trumbull Head of College's office.