The VQ Presents: RECRUITMENT!!
by The Viola Question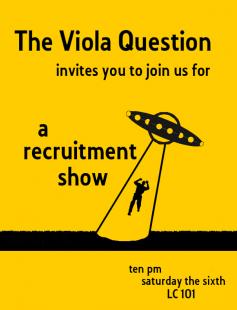 If you can't tell from our CAPITAL LETTERS, we are VERY EXCITED. Why are you excited, VQ? Because we're in the market for some FRESH MEAT. So if you might be that meat, or you know someone who might be that meat, or you want to meet us (see what we did there?), or you're just on the prowl for some crazy shenanigans, THIS IS THE SHOW FOR YOU. Come laugh with us! Come laugh at us! Come throw things at us! Just come. If there isn't enough VQ in your life, here are some places you can get more of us:           
- Walk up to us anywhere anytime         
- Our brand new instagram @violaquestion       
- A workshop (3pm on 9/6 in WLH)        
- Email our lovely directress Anya Richkind       
- After this very show you're reading about right now!
For all inquiries, please contact:
Performance Dates & Times
September 6, 2014 - 10:00pm