Teen Dreams
by Gabrielle Poisson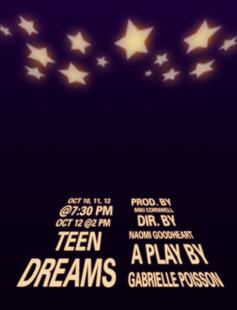 "When I want someone to see me, I just stare at them really hard. It's like I'm asking them to like love me. And if they would just listen—if they listened, they would be able to hear my whole entire heart."
---
Bella is a hopeless romantic. Her life is filled with flashing neon signs, rooftop star-gazing, and all-consuming thoughts of the impending school dance. Her parents aren't getting along and her best friend has a mysterious hickey and Timmy Cooper doesn't even seem to know she exists and all at once the world is expanding and contracting within the walls of her bedroom. An original work from Gabrielle Poisson, Teen Dreams brings to life the messy honesty of being 15 years old, confused, and learning what it's like to listen with your whole entire heart.
---
BELLA — Your average 15-year-old girl who'd really much rather be living in a romantic comedy.
CAROLINE — Bella's very present mother, determined to be involved in her daughter's life, but not sure how to do so.
SIDNEY — Bella's best friend (who has bigger boobs than she does and just got her first hickey).
TIMMY COOPER — the cutest boy in the tenth grade, hot in a way that makes all moms go, "Isn't he handsome?"
RICHARD — Bella's father and Caroline's husband, struggling to communicate with both.
---
Please email gabrielle.poisson@yale.edu or naomi.goodheart@yale.edu if you're interested in reading the script. Sides for auditions are posted below; pick the one you feel most connected to and don't worry about being memorized—we just want to get to know you. All are welcome in cast and crew.
All auditions will be held in LC 212!
For all inquiries, please contact:
Performance Dates & Times
October 10, 2019 - 7:30pm
October 11, 2019 - 7:30pm
October 12, 2019 - 2:00pm
October 12, 2019 - 7:30pm
Location
Venue Accessibility:
Lobby is accessible via building entrance by the north Sachem Street gate. Upper lobby and balcony seating is located on the ground level. Lower lobby and stage level seating is accessible via an elevator. Facilities are located on both levels.