Taps at Yale Presents: The Tapchelor!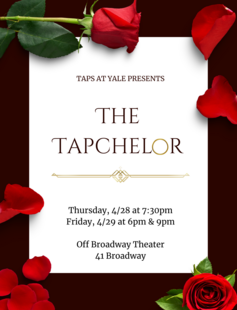 Taps at Yale presents our spring showcase, The Tapchelor! Are you a The Bachelor or The Bachelorette super fan? Do you ~burn~ for someone? Then all you need is love <3 <3
Come and join Taps at Yale as we dance the night away to some love longs, from Taylor Swift classics, Ed Sheeran, to "Everybody Talks," and Britney Spears, featuring original tap choreography. Taps is also delighted to present a historical piece choreographed by tap dance legend Buster Brown! Special features include: another exciting collaboration with the Yale Undergraduate Jazz Collective, clogging, and Irish dance. We hope you'll leave the show saying, "Taps at Yale, I've never felt like this about anyone before."
Will you accept this rose? 
Tickets go live Wednesday, April 20th, at 9am! In-person and livestream available.
For all inquiries, please contact:
Performance Dates & Times
April 28, 2022 - 7:30pm
April 29, 2022 - 6:00pm
April 29, 2022 - 9:00pm
Location
Venue Accessibility:
Building is accessible via a ramp at the main entrance. Seating and facilities are available on the main floor.
Patron Information
This performance is open to asymptomatic patrons with an up-to-date vaccination status.
Front of House staff will be checking tickets, IDs, and proof of vaccination.
Yale-approved masks  are required for all audience members.