Pulling Irons
by Jarett Malouf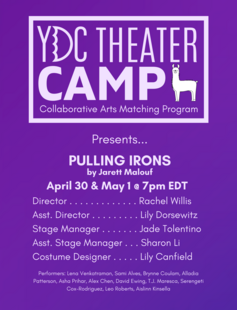 Pulling Irons is an original play by Jarett Malouf '22.
Made by and for non-golfers, Pulling Irons is a one act play about the ordinary and not so ordinary interactions of the Marymount Golf Course. A satire of the often misogynistic and classist world of golf, expect to laugh and cringe at this once in a pandemic show.
This team was matched through the Yale Drama Coalition's Collaborative Arts Matching Program (YDC Theater CAMP).
For all inquiries, please contact:
Performance Dates & Times
April 30, 2021 - 7:00pm
May 1, 2021 - 7:00pm
Location
Venue Accessibility:
Contact the email listed above or the producer for inquiries regarding accessibility.