Prohibition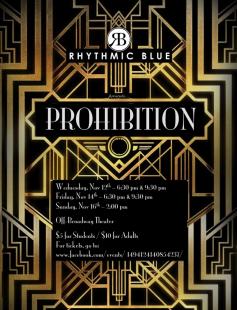 Get ready to come see Rhythmic Blue, the only hip-hop dance group on campus, in their fall semester show: "Prohibition"! You are not going to want to miss it!
Join us for one of our five shows:
Pre-sale tickets are $5 for students and $10 for general admission. Tickets at the door will be $6 for students and $11 for general admission. They always sell out well before the show date, so get yours right now!
Contact Rachel Ha for more information. Facebook event can be found here.
Performance Dates & Times
November 12, 2014 - 6:30pm
November 12, 2014 - 9:30pm
November 14, 2014 - 6:30pm
November 14, 2014 - 9:30pm
November 16, 2014 - 2:00pm
For all inquiries, please contact: