Pródigos
A collection and exploration of stories by Chayton Pabich Danyla
by Chayton Pabich Danyla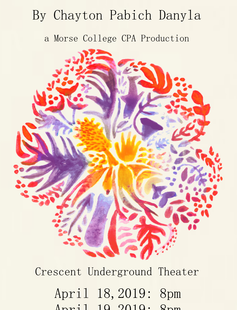 You can't marry the sea, she is too vast and too dark to ever be yours… De la mar vino una carta que me mandó la sirena, y en la carta me decía quien tiene amor tiene pena.
Pródigos is a collection of stories bound together with heartstrings into a single play as told by a single actor. The action follows five intimately connected characters and their unique stories of love, loss, and reconciliation.
How does a family begin to understand one another after years apart?
How do you heal from past trauma—and what does it mean to move on?
After years of lying, how do you decide to start being honest?
Who has the obligation to forgive? To forget?
Who is responsible for the person you have become?
(Pródigos is a new play written by Theater Studies major, Chayton Pabich Danyla)
Performance Dates & Times
April 18, 2019 - 8:00pm
April 19, 2019 - 8:00pm
April 20, 2019 - 2:00pm
April 20, 2019 - 8:00pm
For all inquiries, please contact:
Patron Information
Tickets will go live the morning of April 8th!