THE ODD DUCKS COMEDY AFTER DARK SHOW
Come join us for an after dark show with The Odd Ducks Comedy featuring our new ducklings!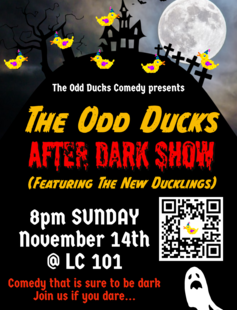 A show in LC 101 (the lecture hall with the nice seats) with Yale's only hybrid-form comedy group The Odd Ducks, perfroming both sketch and stand up comedy for all to enjoy. This is also the first show with our 6 new ducklings who look forward to making the quackiest of debuts. Doors open at 7:30!
About us:
We are Yale's first and ONLY comedy organization that features both sketch and stand-up comedy. Formed in the spring of 2016, we are an inclusive group that encourages creativity and freedom in the field of comedy. We acknowledge that people starting out in comedy may not want to try everything from the start, so we offer positions for people to specialize in stand-up, acting, or writing. We have various shows each semester and invite the entire Yale community to see us perform. WE WILL QUACK YOU UP!
For all inquiries, please contact:
Performance Dates & Times
November 14, 2021 - 8:00pm
Patron Information
This event is only open to masked, asymptomatic, and vaccinated members of Yale College. Tickets are required for attendance, and IDs will be checked at the door. Doors open at 7:30pm. Arrive early for best seating and to help us follow COVID guidelines easier.