New and Improved!
A Senior Project in American Studies
by Jake Dawe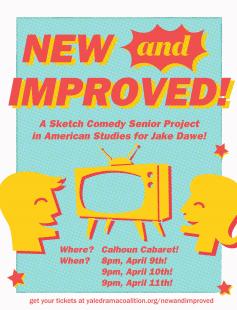 Jake Dawe always dreamt of a leading role on Broadway, but after a terrible accident involving a BB gun, a bear, and a remote Boy Scout camp, he settled on sketch comedy. Come watch a moving, tragic, ultimately uplifting comedy revue that celebrates the triumph of the human spirit in the face of unbelievable odds before it's picked up by Bravo. New and Improved! is an American Studies Senior Project for Jake Dawe made up of entirely original material. It explores the tone with which we discuss sexuality, political correctness, office politics, news media, and more. It only kind of has something to do with Boy Scout camp and nothing to do with Jake Dawe.*This show is not suitable for children.
For all inquiries, please contact:
Performance Dates & Times
April 9, 2015 - 8:00pm
April 10, 2015 - 9:00pm
April 11, 2015 - 9:00pm
Location
Venue Accessibility:
Building, main lobby, and facilities are accessible via an exterior-entry elevator just inside the Elm Street gate. Venue is accessible from the lobby via a wheelchair lift.