Medea
Never stand up and argue with a man.
by Euripides (translated by Alistair Elliot)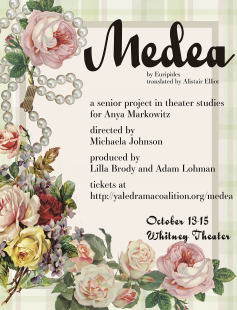 Women now find history reversing/the low esteem in which they lived before.Set loosely in post-WWII America, this production invokes themes of xenophobia and second-wave feminism. A senior project in acting for Anya Markowitz.Some roles have been precast: see cast list below.
Performance Dates & Times
October 13, 2016 - 8:00pm
October 14, 2016 - 8:00pm
October 15, 2016 - 2:00pm
October 15, 2016 - 8:00pm
Location
Theater and Performance Studies black box, 53 Wall Street
For all inquiries, please contact: