The Last of the Maple Leaves
The highways lie waste. The wayfaring man ceases. He has broken the covenant. He has despised the cities. He regards no man.
by Alcindor Leadon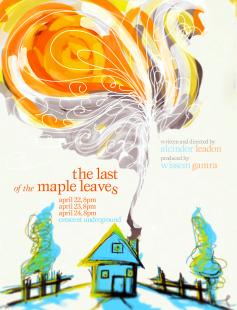 In response to the attacks on the World Trade Center, an acerbic, leftist psychic moves with his children from New York to rural Ontario, where his precocious elder son tests his patience.This production contains vulgar language, unpatriotic dialogue, and material relating to the terrorist attacks of September 11, 2001. The views expressed by the fictional characters do not reflect those of the actors, the author, or anyone else involved. Viewer discretion is advised.
Performance Dates & Times
April 22, 2015 - 8:00pm
April 23, 2015 - 8:00pm
April 24, 2015 - 8:00pm
For all inquiries, please contact: