La Nuit Des Images
Vocal and Piano Recital for Nicole Lam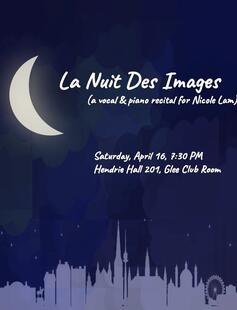 Program:
Robert Schumann
Faschingsschwank aus Wien Op. 26 (Carnival Scenes from Vienna)
Allegro: Sehr Lebhaft
Romanze: Ziemlich Langsam
Scherzino
Intermezzo: Mit Größter Energie
Finale: Höchst Lebhaft 
Gabriel Fauré
Après Un Rêve, Les Berceaux, Nell
Claude Debussy
Ballade, L'Isle Joyeuse
For all inquiries, please contact:
Performance Dates & Times
April 16, 2022 - 7:30pm
Location
Yale Glee Club Room, Hendrie Hall 201
Patron Information
This performance is open to asymptomatic patrons with an up-to-date vaccination status.
Front of House staff will be checking tickets, IDs, and proof of vaccination.
Yale-approved masks  are required for all audience members.