John
by Annie Baker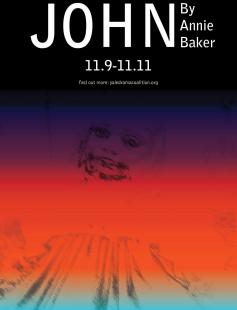 A couple struggling to stay together books a room at an eerie bed & breakfast in Gettysburg, PA. As their fights begin to escalate, they start to realize that the cheerful innkeeper is not what she seems and the dolls on the mantlepiece are more animate than they appear. John is both a love story and a ghost story about loneliness in the modern age.
Performance Dates & Times
November 9, 2017 - 8:00pm
November 10, 2017 - 8:00pm
November 11, 2017 - 8:00pm
For all inquiries, please contact:
Patron Information
Patrons should arrive at the theater 15 minutes before the performance to claim their reservation. At the scheduled performance time, patrons will be let in off of the waitlist based on when they signed up on the YDC website. Patrons with reservations arriving after this time will be treated as if they are at the top of the waitlist. Please see the full policy 
here
.
Media and Downloads
mertis_side.pdf
(.pdf - 53.32KB)
jenny_side.pdf
(.pdf - 70.33KB)
genevieve_side.pdf
(.pdf - 60.17KB)