I Am America: A Workcenter Open Program Performance
by The Workcenter of Jerzy Grotowski and Thomas Richards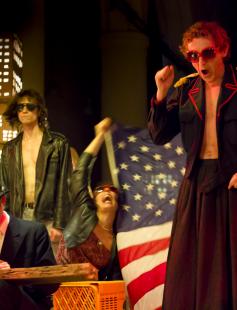 I Am America brings the poetry of Allen Ginsberg to life in a visceral performance with language culled from Ginsberg's poetry as well as calls, shouts and traditional songs from the South of the United States. Original compositions by members of the Workcenter, developed in intensive collaboration over a period of three years, complement and build upon these sources.Grotowski + Performance Research is presented by Interdisciplinary Performance Studies at Yale (IPSY) and the Theatre Studies program at Yale University. The events are part of Poland-U.S. Campus Arts Project, a program of the Adam Mickiewicz Institute in Warsaw, Poland, with support from the Polish Cultural Institute New York.
For all inquiries, please contact:
Performance Dates & Times
February 28, 2013 - 8:00pm
March 1, 2013 - 8:00pm
Location
Theater, Dance, and Performance Studies Black Box
Venue Accessibility:
Building is accessible via a ramp on the Church Street side. Venue and facilities are located on the main floor.